PUPPY TRAINING NEAR ME
SERVICE DOG PUPPY TRAINING
Mister Puppy is an adult service dog now. This is his puppy photo album since he was 8 weeks old.
This page was written to dispel certain myths about service dog puppy training near me.
You could have got an adult service dog, but instead you got a service dog puppy because you wanted a clean slate. You have one chance to do everything right.
If you want a perfect service dog, we recommend you get professional assistance and do everything right from the first day and not make any mistakes.
This is why David Baron in Sacramento only trains service dog puppies now.  He got tired of people bringing him dogs somebody ruined, often a 10 week old puppy the family only had two weeks.
You have not trained 1000's of dogs.  You would not pretend to be a doctor or lawyer, why pretend you can train a dog?  The information you glean from the internet will usually just help you ruin your dog even more.  No doctor or lawyer goes to the internet to learn to do their job because most of the information online is not valid or reliable.
The problem is you will not be able to do everything right, even with lessons or classes because you are not a professional dog trainer.  
None of our competiors is getting the results we show on this website, and  neither will you if you hire them.  FORGET LESSONS AND CLASSES.
If you have money, let David Baron and his wife Niki train your puppy, and then in 3 to 4 months, you have a 5 or 6 month old dog that is better than most peoples' adult dogs. 
This photo was taken the day we got Mister Puppy.  
 "Service Dog Puppies younger than four months can't learn anything because they are too young."
DON'T DRINK THE KOOL-AID
Mister Puppy learned to swim at 12 weeks.
Mister Puppy would "Sit-Stay" in the pool at 12 weeks.
FACT: In the United States, only one third of the puppies born remain in the original home. 
Mister Puppy had to learn how to get out of the pool in case he fell in.
"Stand-Stay"
"Down-Stay"
"Sit-Stay"
Learning to be a good sport with others dogs and not be aggressive to them is more important than your service dog puppy dog doing commands.
People buy cute service dog puppies everyday and then are absolutely miserable with them when they become dangerous to people and other dogs.
Socializing your service dog puppy is not training it so there will be something that can inhibit the animal's instinct and genetics.
Learning commands is important, but no one cares about if your service dog does obedience commands if it aggressive, pushy, whiny, is domineering or has separation anxiety.
Maybe your service dog will not be aggressive, but at 8 weeks you can potty train, teach it to not jump on people, not to be pushy, how to be comfortable, and even look forward to, time on its own—and a million other things that if you don't get right, you will not be happy with your dog.
The goal for socialization for Mister Puppy was that he met 100 dogs and 100 people by the time he was four months old.
Socialization is more about seeing if the dog listens with distractions present rather than teaching it to do anything, or how to act a certain way.
Playing with other dogs does not qualify as 'socialization." Your service dog puppy was great with dogs (in its litter) until someone ruined their dog and did not train it.
You could have got an adult service dog, but instead you got a service dog puppy because you wanted a clean slate. You have one chance to do everything right.
If you want a perfect service dog, we recommend you get professional assistance and do everything right from the first day and not make any mistakes.
There is no in-between. Either you do everything right from the beginning with your service dog puppy or you do not.
Certain good things happen then nothing is the same ever again.
Mister Puppy the Tibetan Mastiff is quite the Rock Star at only 17 weeks.
He wowed everyone at this outdoor festival at the California State Capitol.
A lot of people wanted to know who trained our dogs.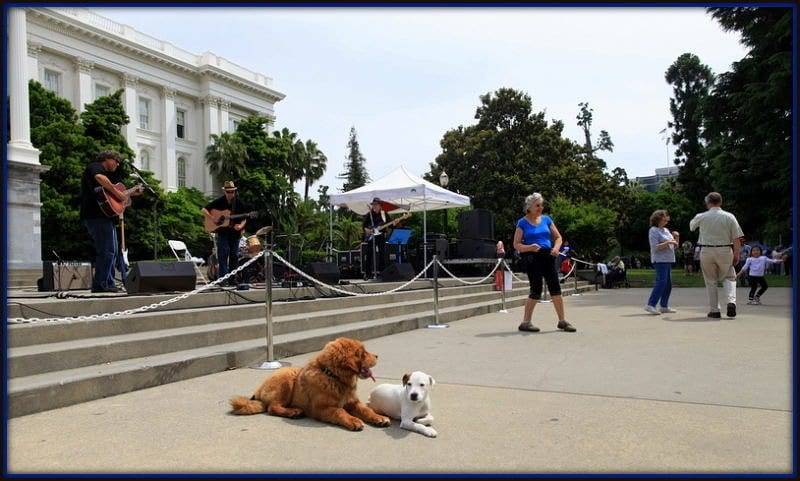 A rock band, strangers dancing, other dogs, children–nothing fazed them.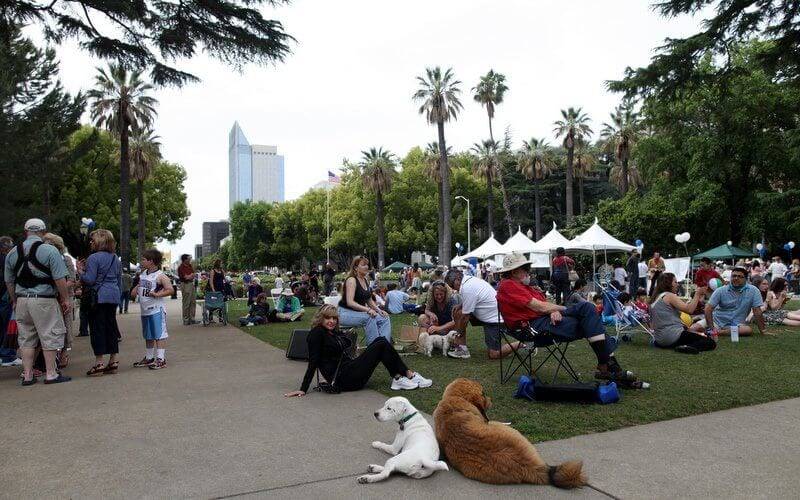 All our clients are getting the same results with their service dog.
Call Superdog for Service Dog Puppy Training.
You are definitely in the right place if you are looking for doggie boot camp, dog training boot camp, doggy boot camp, bootcamp dog training, board and train dog training, boot camp training for dogs, send away dog training, drop off dog training, puppy boot camp or dog boarding and training for your service dog puppy.
Mister Puppy is only 17 weeks old in this set of photos.
Many "experts" say puppies need to be six months old to start training.
Better to listen to the people who are getting amazing results with dogs.
Look closely at these photographs because what you see are typical results.
Mister Puppy the Tibetan Mastiff is not even four months old in these photos.
Better to hire the best dog and service dog puppy trainer the first time.
There may never be anything as good as than that one perfect instant in time.
There was a place and time and they were so amazingly good, and we can even look forward to something better.
Tibetan Mastiffs make wonderful service dogs.
Mister Puppy and Truman at the California State Capitol
You have one chance to do everything right from Day One.
MISTER PUPPY at 15 MONTHS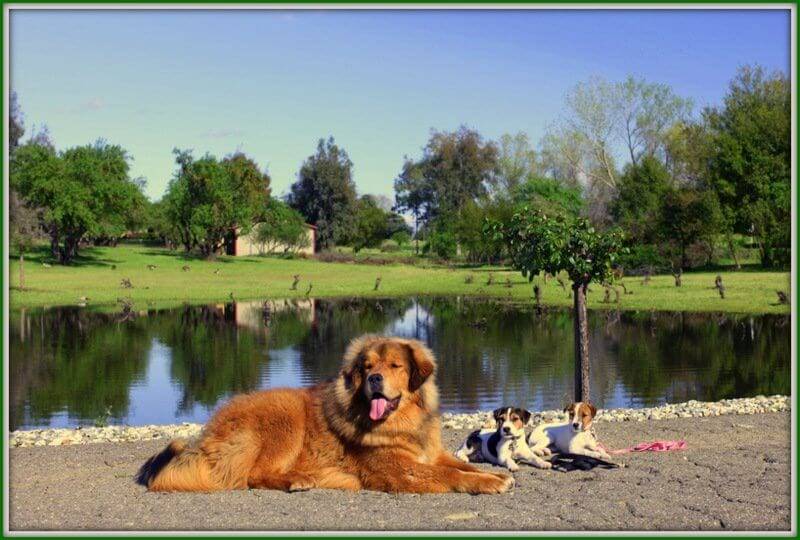 DARLA & SPANKY the JACK RUSSELL TERRIERS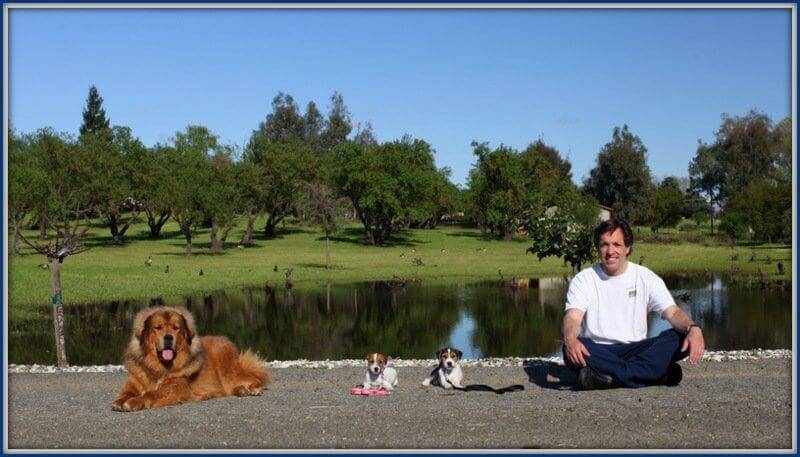 Darla and Spanky's third day of training!
A relationship with dogs based on respect and trust.
REMEMBER, Superdog is the only Service Dog Puppy Trainer in America teaching Off-Leash Dog Training.  This is important because how can you say a dog is trained if it must be on a leash.  If you wanted your service dog just good on a leash, you could take it to a pet shop for obedience classes and save a lot of money.  
You should not have to keep your dog on a leash for fear it will run away.
Sometimes in life you get lucky and find something amazing that will be a life-changer for you, and the price you pay is small compared to the alternatives.
DAVID BARON'S SUPERDOG
Puppy Training Near Me
Everyone says they train service dog puppies near me, but they don't have a lot of pictures like these.  We don't need you to believe us, just consider what you see on every service dog trainer's website is their best foot forward. We do not want you to make the mistake of failing to even notice that 99% of service dog puppy training websites do not show trained dogs to substantiate their claims that the dog are actually trained.
Psychiatric Service Dog For Anxiety