Dog Park Aggression
LILLY THE PIT BULL

DOG PARK AGGRESSION
Lilly the Pit Bull was a really good girl except for viciously attacking other dogs.

Lilly was confused about who was supposed to protect her, and the owner Monica, around dogs.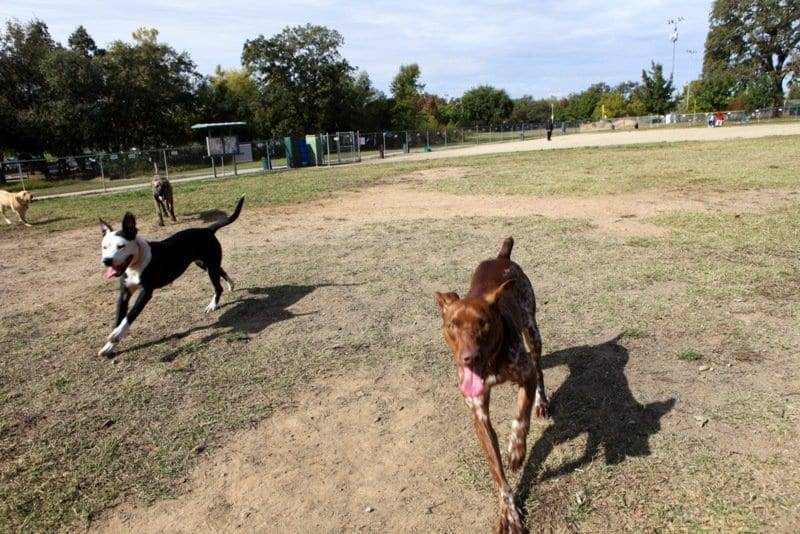 Like many dogs, Lilly became aggressive after other dogs traumatized her.

An un-trained dog like Lilly did not have a lot to focus on other than her fears and suspicions.

Cats play by doing things like working together to catch a rubberband. Often when dogs get together it is all about submission and dominance.

People often introduce their dog to other dogs and hope for the best, oblivious to the fact that the other dog is causing their pooch severe angst.

About half of our Superdog clients come to us because they are no longer able to walk their dog or take it places out of fear that they will encounter other dogs—even if the other dogs are friendly.

Monica chose Superdog because it was the only dog trainers with photos of hundreds of dogs they trained. She was put off by the other dog trainers' websites because they were "pretty much all talk and no pictures to substantiate their competence with behavioral problems."

Monica lives in Sacramento and hired the owner of the Superdog franchise David Baron. These photos were taken during Lilly's fourth lesson.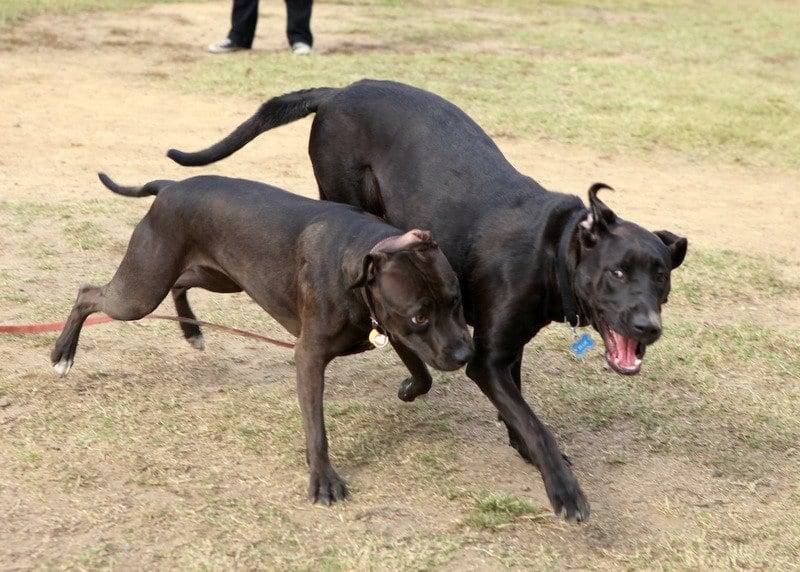 The Superdog philosophy is that there needs to be consistent leadership and good, strong obedience basics so the dog will not act-out erratically.
Behavioral training like you see on this page starts when the dog will do an hour on "Stay" and "Heel" subordinately behind the owner.

The whole point of the training is to have the dog focus on the owner no matter how severe the distractions. Lilly now knows that if there are 'problems' that her owner will protect her.

With only three lessons under her collar, Lilly will do an hour "Stay," "Heel," and a great "Come" when called. The dog is now focused on the owner Monica and being obedient instead of the fear and suspicion.

One of the biggest mistakes dog owners make is taking off the leash too soon. Even if the owner does not need to touch the leash, it makes the dog feel like it is connected and accountable to the owner.

This was only Lilly's second time going to the dog park. She made a new friend "Blue" the Pit Bull-Labrador mix.

Blue knew that Lilly was afraid and seemed to do all the right things to build her confidence.

Amazing behavioral results regardless of breed, size and age.
Lilly is pretty much a totally different dog now and is a lot calmer and out-going, not so edgy. After working with David Baron and Superdog, Lilly is not so afraid of men anymore and even has warmed-up to Monica's boyfriend.
DAVID BARON'S SUPERDOG
America's #1 Dog Trainers
See our other Super Dog Pages. . . .

Superdog provides On and Off-Leash Dog Training and behavioral services in the Sacramento Region, the San Francisco Bay Area and Northern California.